Blake Addison - Head Swimming/Diving Coach
Blake Addison grew up about 25 minutes east of Cary, in Knightdale, swimming for New Wave. He attended Enloe High School, where he was a part of 4 Conference, 4 Regional and 3 State Championship teams. Coach Addison Attended NC State University - GO PACK!! - and studied Business Administration/Entrepreneurship. He began coaching at 15 for a TSA Summer League Team, progressing to a Wave coach as a Freshman at State, and finally to his home at TAC in March 2013. Coach Addison has helped coach and produce NCS IMX Camp, NCS Select Camp and NCS Zone Team athletes as well as State and National record holders; and was also a finalist for the 2017 ASCA National Age Group Coach of the Year Award.
Coach Addison currently has former swimmers competing for their collegiate teams at William Peace University & Worcester Polytechnic Institute. Coach Blake believes in developing the total athlete, with a special focus on the technical aspects of each stroke, which "build the foundation for longevity, health and success in the sport of swimming". Coach Addison is excited to join the Green Level Athletics family!
Roger Collins - Head Cross Country Coach ~ Head Indoor Track Coach ~ Head Outdoor Track Coach
Roger Collins grew up in Pennsylvania, and ran track in high school in cross country in college. He then began his coaching career in Washington, DC with the DC Redwings before moving to North Carolina in 2005.
Coach Collins then began a 12-year stint coaching cross country and track at Green Hope. During that time, Coach Collins took on the role of varsity boys and girls cross country coach and oversaw a run of six consecutive 4A state titles for the girls team (2009-2014) and one state title for the boys (2010). The girls teams in 2010 and 2014 advanced to Nike Cross Nationals in Portland, Oregon, a race that pits the top 22 teams from across the country against one another. Collins was also one of the head track and field coaches during that time, coaching numerous athletes to state titles and all-state finishes along with two team runner-up finishes for the girls' program. Many of the athletes who trained under Coach Collins have gone on to outstanding success at the collegiate level, capturing all-conference and All American honors at the NCAA Division I level.
Coach Collins resides in Chapel Hill with his wife Melissa, who works as an occupational therapist at UNC, and children Naomi and Quinn. They enjoy spending their time enjoying the outdoor amenities of their community.
Eric Cooper - Head Men's Tennis Coach
Eric Cooper was born and raised in Raleigh, North Carolina, where he graduated from Southeast Raleigh High School. He attended North Carolina Central University where he became a scholarship student-athlete and lettered in Men's Tennis team after walking on during his freshmen year of college. As a member of the tennis team, he garnered awards such as Tennis Athlete with the highest GPA and All CIAA Academic honors. He graduated from NCCU in 2005 with a Bachelor's degree in History.
After returning to school in 2007 to receive his licensure in education, Coach Cooper began teaching at Hillside High School. During his time at Hillside High School, Coach Cooper began his coaching career. During the 2009-2010 school year, he guided the Hillside Boys Junior Varsity team to a 14-2 record thereby becoming the conference champions. Between 2010 and 2017, Coach Cooper worked with the Junior Varsity and Varsity Boys basketball teams as an assistant coach. During his time as a coach within the Hillside boys' basketball programs, he assisted the Junior Varsity to an undefeated season and helping the Varsity boys reach the semifinals of the state playoffs.
Coach Cooper is married to Sheena Johnson Cooper and together they have two children, Tatum (6) and Banks (newborn). The Cooper family are fitness junkies. Coach Cooper is a gym rat and participates in half marathons and is currently pursuing his license in personal training. His wife, Sheena, is an indoor cycling instructor at Cyclebar Brier Creek.
Alexandria Connelly - Head Softball Coach
Coach Connelly, raised in Upstate New York, was a three sport scholar athlete. She attended the State University of New York at Oswego where she graduated in 2016 with her Bachelors in Chemistry and a Minor in Health Science.
While attending SUNY Oswego, she pitched all 4 years, leading the team in lowest era 3 of the 4 seasons. During her first year as a freshman, her team attended the SUNYAC playoffs. During her sophomore year, Alexandria was recognized as Athlete of the Week and as a senior she was chosen as a captain.
After receiving her Bachelors degree, Coach Connelly returned to SUNY Oswego for a 1 year accelorated Masters Program in Curriculum & Instruction. During this she was brought onto the University's softball team as the pitching/assistant coach.
Upon completion of her Masters, Alexandria moved to North Carolina accepting a positing to teach at Lee County High School. During her first 2 years of teaching at LCHS she was an assistant girls varsity basketball coach, varsity cheerleading coach, and JV and varsity softball coach.
In her free time Alexandria enjoys staying active by running, weight lifting, and hiking.
Ryan DeGeeter - Head Wrestling Coach
Ryan DeGeeter grew up in Davenport, Iowa. He wrestled through middle school as well as in high school at Davenport West High School. While in college, he also competed in the University of Northern Iowa's intermural wrestling tournament securing wins over several state place winners.
Coach DeGeeter has coached on various levels throughout his 6-year teaching career at his alma mater West High School. In 2016, he was the kids club coach, coaching 5 – 14-year-olds at various local and state level tournaments throughout Iowa. In 2017-2019, Coach DeGeeter was the head assistant coach at West High School coaching JV and varsity athletes throughout the state of Iowa including the prestigious Iowa State Wrestling Championships.
Coach DeGeeter also coached his younger brother, Jared, who wrestled at the University of Northern Iowa at various local, state, and national tournaments throughout the country during his high school career.
Coach DeGeeter is moving to the Cary, NC area this summer with his wife, Olivia, her two cats, Nala and Ralphie, and he is excited to be adding a Lab puppy to their house this summer as well. When he is not coaching, he enjoys watching wrestling, the Chicago Cubs, and anything the University of Northern Iowa. He is a math teacher at Green Level High School and is thrilled to be a part of the Green Level family. Go Gators!
Alston Godbold - Head Volleyball Coach
Alston Godbold (formerly Alston Kearns), is a graduate of Apex high school where she was a standout athlete and varsity letterwinner. In 2010 she captained Apex High School to a 27-0 season, 4A state championship, and a No. 9 ESPN National Ranking. She was named AVCA Under Armour All-American Honorable Mention and prepvolleyball.com All-American as a senior. After graduating, Godbold went on to compete as libero/defensive specialist at NC State. She earned a bevvy of all-tournament awards throughout her four years with the Wolfpack and finished her career at NC State in the top five for all-time digs.
Godbold started coaching at Triangle Volleyball Club in 2010. She has helped with numerous national teams. She helped lead 16 Black to the 16 Open championship match at AAU Junior Nationals. This was Triangle's first appearance in an open division national championship match along with Triangle's highest finish at AAU Junior Nationals.
She currently is in her second year of head coaching 16 Blue at Triangle. Alston has been the JV Head Coach and Varsity Assistant at Apex High School the past two years. The Apex JV and Varsity team have won the SWAC conference the past two years.
Ben Goudeau - Head Football Coach
Ben Goudeau was raised in Apex, NC and graduated from Apex High School in 2008. While at Apex, Ben was a three year varsity starter and captain on the football team and a member of the 2007-2008 state runner-up basketball team.
Goudeau began his coaching career at South Central High School as a JV and Varsity defensive assistant, working primarily with the defensive backs. Ben made his switch to the offensive side of the ball when he joined Will Orbin's staff at Holly Springs High School (2013-2014) where he also taught in the special education department. In 2014, as both the head JV football and girls basketball coach, Goudeau's teams went a combined 28-2. In 2015, he joined the Louisburg College coaching staff and helped the Hurricanes earn a spot in the top 15 of the national rankings for the first time in school history. They also finished the season #1 in the NJCAA in rushing offense. Goudeau has spent the last three years at Athens Drive HS as the offensive coordinator under head coach Jeremy Fullbright. During that span, the Jaguars have been one of the top offenses in the area, eclipsing 50 points six times.
Ben resides in Apex, NC and when he isn't coaching, he enjoys spending time with family and friends, reading, and being outdoors. He loves the community and is thrilled to be a part of the Green Level family.
John Green - Head Men's Basketball Coach
Coach Green graduated from Beddingfield High School (Wilson, NC) in 1999. While in high school he played soccer, football, basketball, baseball, and tennis. He was coached by his father Lin Green during his three year varsity basketball career. He was named all-conference in four sports his senior year. He was recently inducted into the Beddingfield Athletic Hall of Fame. After high school, Coach Green played basketball at Barton College. He graduated from Barton in 2004, amassing over 1000 points and being named a 1st team all-conference performer. He has coached basketball for thirteen years here at Green Hope. He was the Head JV coach for 5 years and Head Varsity coach for 9 years. His overall varsity record is 153-91. During the 2016-2017, season Coach Green led the team to a 26-6 record and a 4th Round appearance in the NCHSAA 4A State Playoffs. In 2017-2018 he led the team to their 1st conference regular season championship in school history, 3rd conference tournament championship, and 3rd round of the state playoffs. His teams have advanced to the conference tournament championship game 6 times, most recently in the 2018-2019 season
Off the court, John enjoys spending time with his family. John and his wife Amanda have a three children, Jackson (9), Walker (6), and Kennedy (3).
Mackenzie Koeller - Head Women's Lacrosse Coach
Mackenzie Koeller is a Cary native and graduated from Green Hope High School in 2014. She was a 4-year varsity starter at Green Hope and helped the team win the 2012 State Championship for Women's Lacrosse as a midfielder. After graduating from Green Hope, she continued her lacrosse career at Campbell University (Go Camels!) where she earned a bachelor's degree in International Business and a Master of Business Administration graduating in 2018.
While at Campbell, Mackenzie played midfield for two years before transitioning to attack for her final two years. She was an NCAA Woman of the Year Award nominee, Big South Female Scholar Athlete of the Year in 2018, competed in the 2018 Division I Senior All-Star game, led the Big South in number of goals scored her senior year, and is recorded in the top 3 all-time scorers at Campbell. She also served as the vice-president of the Student Athlete Advisory Committee and president of the Fellowship of Christian Athletes.
Mackenzie is passionate about fitness, traveling, and meeting new friends. She lived and worked in Germany for 6 months where she played on a pick-up women's lacrosse team, raced in a half-marathon, and visited most of Europe. She loves competition and believes that team sports are an incredible avenue to build a healthy lifestyle, mental toughness, superb work ethic, and great friends. Mackenzie has coached for the Carolina Fever club lacrosse program for the past 3 years and is excited to coach at Green Level!
Stacy Lamb - Head Women's Soccer Coach
Born and raised in Franklin, TN, Green Level soccer Coach Stacy Lamb attended Lees McRae College in Banner Elk, NC, where she played soccer & basketball. She graduated from LMC in 1997 with a BA in both English Literature and Communications.
Lamb began her collegiate coaching career at Midwestern State University (Wichita Falls, TX) from 1997-1999, when she graduated with a M.S. in Kinesiology, with a concentration in Exercise Physiology.
In 1999, Lamb moved to Monroe, LA, to further her coaching & academic careers. Graduating with a M.A. in English Literature / Creative Writing in 2000, Lamb became the Head Women's Soccer Coach at The University of Louisiana in 2001.
As the Head Women's Soccer Coach from 2001-2011, Lamb established herself as one of the top coaches in the region after taking the reins of one of the country's most promising growing programs. Recognized by her peers as one of the top coaches in the profession, she was named Coach of the Year in 2001 – her first season as a Division I head coach – by both the Southland Conference and the Louisiana Sports Writers Association. During her time at ULM she also served on the NCAA Division I Rules Committee.
Stacy began coaching at Green Hope in 2015, and over the past 5 seasons the Falcons have gone 76-20-8 (0.740) and earned 5 conference championships. Lamb was named Coach of the Year all 5 seasons.
Stacy is a USSF 'A' Licensed coach, and a former All-American player at Less-McCrae College where her career points and assists totals are still ranked at the top. In the fall of 2006, Lamb was named to the Carolinas Virginia Athletic Conference All-Time Women's Soccer Team, and in 2007 she was the first female inducted into the Battle Ground Academy Sports Hall of Fame in Franklin, TN.
April Mack - Head Cheerleading/Stunt Coach
April Mack grew up in Virginia Beach, Virginia and graduated from Ocean Lakes High School. While at Ocean Lakes, April was a competitive gymnast and cheerleader, able to compete at the district, regional, and state levels. April attended the University of Virginia, where she was a cheerleader for both football and basketball seasons.
After graduating from UVA, April eventually returned to Ocean Lakes High School as a teacher, until moving to North Carolina in 2016. Since being in the Raleigh area, April has served as a social studies teacher at River Bend Middle School and Holly Springs High School. During her time at Holly Springs High, she has enjoyed successfully coaching both stunt and cheer. While at River Bend Middle, April started the school's very first cheer program.
When not teaching and coaching, April enjoys reading, the pool, and spending time with her husband and family.
Katie Pope - Head Dance Team Coach
Katie Pope (formally Katie White) graduated with a BFA in Dance Education from East Carolina University. While there, she grew artistically as a dancer and choreographer, while also learning the ins and outs of teaching.
Katie is from Winston Salem, NC where she attended Ronald W. Reagan High School and was captain of the Raiderettes, the school's dance team. During Katie's time on the Raiderettes, the team performed at football games and basketball games, along with state and national championships. As captain, Katie co-choreographed the team's national championship routine which placed 18th overall in Walt Disney World at Universal Dance Association's National Dance Team Championship. Katie plans to hone her dance team's focus on Jazz, Pom, Contemporary, and Kick. Katie is excited and eager to be teaching dance while coaching the dance team at Green Level, fostering appreciation and professionalism in the field of dance.
Sushil Ramchandani - Head Women's Tennis Coach
Sushil attended Athens Drive High School in Raleigh, NC. He graduated from high school in Alberta, Canada. He completed his Physical Therapy Degree at University of Alberta. He returned back to North Carolina and received a Master's in Health Administration at University of North Carolina Chapel Hill.
Sushil is a Certified Tennis Performance Specialist (CTPS) with the International Tennis Performance Association (iTPA). He is affiliated with the American College of Sports Medicine (ACSM), Society for Tennis Medicine and Science (STMS) and American Physical Therapy Association (APTA)· He is also a member of the North Carolina Tennis Outreach and Adaptive Committees. He has worked with a variety of junior athletes and helped them get back to their sport.
Sushil resides in Cary, NC. In his off time, he enjoys spending time with family, watching movies, and travelling. He is looking forward to be a part of Green Level High School Athletics.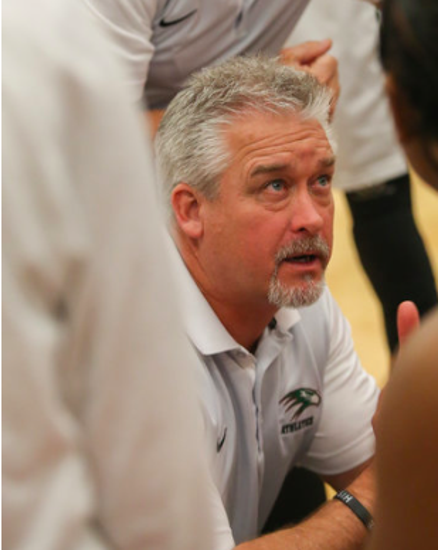 Mike Robinson - Head Women's Basketball Coach ~ Head Men's Golf Coach ~ Head Women's Golf Coach
Born in Graham, North Carolina - Mike graduated from East Carolina University in 1987. He has been teaching and coaching for over 30 years. During his time coaching women's basketball he amassed more than 200 wins and coached his teams to 6 conference championships, including a NCHSAA 4A state-runner up finish in 2010. In 2010, Robinson was also named North Carolina Women's Basketball Coach of The Year.
As a both a men's & women's golf coach, Mike has been part of 8 conference championships and won numerous conference and regional coach of the year awards. In 2014, he led the Green Hope women's golf team to there 1st NCHSAA 4A State Championship in school history. In 2017 he led the Green Hope Men's Golf team to a NCHSAA 4A State Runner-Up finish.
At Green Level, Mike will teach in the Healthful Living/PE Department.
Kyle Spoko - Head Men's Lacrosse Coach
Kyle Sopko is a native of Shoreham, New York on long Island. He was a four year three sport varsity athlete in lacrosse, soccer and track. In 2007, Sopko help guide his high school of Shoreham Wading River to a New York State championship lacrosse title. Sopko recently joined Green Level from Averett University where he was offensive coordinator for the past 2 years while receiving his Masters Degree in Education. Prior to Averett he was assistant coach for Mattituck High School. While at Mattituck he was responsible for coaching the goalies and working with offense. During his time at Mattituck high school he brought his teams to back to back county title games and coached numerous All-County players including two Player of The Year candidates for Class C.
Sopko played college lacrosse at Springfield College for a year before transferring to Dowling College to finish his three years. While at Dowling Sopko scored the overtime goal to send his team to the national championship game in 2012. That year Dowling was the division 2 national lacrosse championship after his huge semi final performance. He graduated by from Dowling with a Bachelors Degree in Physical Education. Sopko moves to the area with his wife Samantha, also a Long Island native, who is a middle school healthful living and PE teacher in Wake County.
Deniz Solakoğlu - Head Men's Soccer Coach
Born in New York City, raised in Cary, North Carolina; Deniz began his soccer career playing for various triangle-area clubs highlighted by a national final-four run with the U-19 Durham-Chapel Hill Strikers. While attending Apex High School, Solakoğlu was a 4-year varsity team player earning First Team All-Conference honors all four years. Eventually, he was named All-State, N.C. East-West All-Star and Tri-Six Player of the Year. His playing career continued onto the colligate ranks where as a Freshman was part of Campbell University's 1992 Big South Championship team. Solakoğlu concluded his playing career at North Carolina State University where he was a three-year letter-winner.
After 17 years in banking and investments, Deniz joined Green Hope High School in 2016 as a Business teacher and coach. While at Green Hope (2016-18), Coach Solakoğlu led the Junior Varsity Boys team to three Wake County Cup finals appearances, winning the 2016 and 2018 championships. During that time, he also assisted the Varsity squad winning two Wake County Cup and two NCHSAA 4A State Championships. Coach Solakoğlu has a B.S. in Business from N.C. State University and M.B.A. from Nova Southeastern University, FL. Additionally, he holds a National Youth-Level Coaching License through the U.S. Soccer Federation and is pursuing further licensing. He enjoys spending time at the NC coast with family and friends and supporting Wolfpack sports.
Ryan Thorpe - Head Baseball Coach
Ryan Thorpe was raised in Albemarle, NC and is a graduate of West Stanly High School. As an athlete, he was a Varsity letterwinner and all-conference player in baseball and basketball. As a senior, he earned All-State honors and was named Conference Player of the Year in baseball. After graduating, he attended the University of North Carolina at Chapel Hill as a part of the North Carolina Teaching Fellows Scholarship Program. While attending UNC, Thorpe was a member of the UNC Club Baseball Team, winning an NCBA National Championship in 2007. After earning a Bachelor of the Arts in History, he returned to earn his Masters in the Arts of Teaching - graduating in 2009.
After two years teaching social studies and coaching JV baseball at Bartlett-Yancey High School in Yanceyville, NC, Coach Thorpe accepted a position at Panther Creek High School in Cary, NC. He served as the Varsity pitching coach from 2012-2018 under head coach Dan Hall and also served as a head coach to Panther Creek's summer baseball programs. This past season, Thorpe served as the head coach of the Panther Creek JV team.
Coach Thorpe resides in Raleigh with his wife Heather, who works as an attorney. They have two children - a daughter, Charlotte (5), and a son, Hayden (1).
Samantha Tickle - Head Gymnastics Coach
Samantha was born and raised in Cedar Grove, NJ. She was a competitive gymnast with the Montclair Starlettes for 8 years. Throughout high school she ran Varsity Track and volunteer coached elementary school Track & Field. She went on to attend Meredith College and graduated with a degree in Exercise and Sports Science. Samantha has been coaching gymnastics for 10 years and currently coaches at TAG in Apex.

Samantha coaches several local high school teams in the area. During her time as a coach she has won numerous Tri-6 Conference Coach of The Year Awards & won a State Championship in 2018 with Green Hope.
In her free time she enjoys hanging out with her 2 German Shepherds, Wesley and Remington.
Firman Walden - Head Indoor Track Coach ~ Head Outdoor Track Coach
Firman brings 30+ years' experience as an Elite Athlete, Championship Coach and successful Personal Trainer. Firman is a 2-time High School State Champion in the 110HH, at Overbrook High in Pine Hill New Jersey, as well as a member of their State Champion 4x400 meter relay team. The records Firman set as a senior at Overbrook in 1986: 110HH – 14.0… 400IH – 53.49… 4x400 meter relay – 3:17.69 remain unbroken to this day. Firman then attended UNC-Chapel Hill on an athletic scholarship in Track & Field and majored in Physical Education. After graduating, Firman began his High School coaching career as the Hurdle Coach/Assistant Sprint Coach under legendary Coach Roy Cooper at Apex High School. From 1990-1995 with Firman's help, Apex became the dominant Track & Field program in what was then the Tri-6 Conference. In 1997, Firman joined the Cary High Track & Field team as the Sprint/Hurdle Coach and the Imps enjoyed tremendous success. Fall of 2002, Firman was promoted to Boys Head Track & Field Coach at Cary High.
After the 2005 season, Firman retired from Coaching in order to continue to build his Personal Training career. Though he retired from coaching, the coaching bug never left him. In 2010, Firman was given the opportunity to help rebuild the Green Hope Track & Field program which had come down from its heights of the mid 2000's. Since joining GHTF in 2010, just about every school record at Green Hope Track & Field has been broken, across all disciplines. Since 2010, Green Hope Track & Field has produced one of the most competitive programs in the state. Producing more than 16 All-Americans, 3 State Champion Teams, 2 State Runners Up and three 3rd Place Teams. Throughout his coaching career, Firman has helped produce many individual State Champions, a State Meet MVP, multiple Conference MVPs along with many athletes who have gone on to compete in Track & Field on the collegiate level.
He was voted Conference Coach of The Year in 2004, 2005 & 2013. In 2018, Firman was voted North Carolina Boys Track & Field Coach of The Year by the U.S. Cross Country Track & Field Coaches Association.